As an offshore services provider, Diversify has clients from all over the world, providing each of them with quality services. However, globalised businesses face a number of responsibilities, especially when it comes to minimising risks. Therefore, it was important to the client that Diversify complied with Australia's Modern Slavery Act to reduce such risks.
The ability to work with an offshore team is a testament to the globalisation of businesses. Regardless of industry, anyone can leverage what offshoring has to offer. Indeed, one of offshoring's main tenets is team building. It is an approach that emphasises offshore teams being an extension of the local workforce. Clients are not only able to address several more of their business objectives. They potentially gain long-term and committed team members in the process. One such client from the real estate industry sought out Diversify to help support their back office operations.
Compliance With the Modern Slavery Act
To briefly summarise, the Modern Slavery Act of Australia requires companies to report on how they are preventing and addressing modern slavery risks in their operations and supply chains. In doing this, Australian companies do their part in the global effort to eliminate modern slavery. The act protects themselves from legal, operational and financial risks of being connected with modern slavery. At the same time, companies that do comply with the act by providing ethical treatment to workers gain a positive reputation in their industry.
Being their service provider in the Philippines, Diversify was responsible for ensuring that their client's team complied with local regulations and statutes. This meant keeping staff engaged and managed in accordance with employment and workplace health and safety laws.
Client Growth Through Offshoring
The client first approached Diversify back in 2020 with the intention to offshore to the Philippines. With an established presence in the ANZ region, the client turned to the Philippines for assistance in reducing administrative burdens.
They began with an initial team of five which, by the end of 2022, grew to over 90+ staff. With an initial focus on accounts payable roles, they expanded to offshoring other finance roles that allowed them to develop and focus on the implementation of business strategies. Owing to Diversify's approach to offshoring, the client has stated that they will continue adding to their FTEs as their business continues to scale.
Partnering With Diversify
It was important to both the client and Diversify that their working relationship was founded on ethical grounds that prevented instances of modern slavery. To address this, the client undertook an engagement process with Diversify beyond normal supplier screening procedures. These included:
Meeting with senior management to better understand their approach in managing modern slavery risks across their operations
Face-to-face interviews with their team in the Philippines together with their respective Australia-based manager
A deeper dive into Philippine governance documents, policies, and processes
Through this engagement process, Diversify demonstrated to the client a high degree of governance and awareness of modern slavery risks. Diversify's Employee Handbook, Vendor Management Policy, and Grievance Procedure Policy all identified modern slavery as a risk. Diversify also presented their own policies to the client, showing a commitment to providing safe and fair working conditions.
Aside from face-to-face interviews, the client also visited Diversify in the Philippines as part of training and team building exercises. Diversify continues to stress the importance of team engagement as a way to better develop working relationships with offshore teams. Additional face-to-face interviews also happen during the year with different team members. To date, these interviews have not uncovered any cases of modern slavery.
The client also uses Diversify's annual employee engagement survey to assess the overall culture and level of engagement of their offshore team. Diversify is also subject to audits and workplace inspections by the Department of Labor and Employment.
Providing Quality Results
With Diversify assisting in their administrative financial tasks, the client weathered the initial challenges brought on by the global pandemic. By the end of their 2021 financial year, the client saw strong growth across different platforms. Their assets under management (AUM) saw a 106% growth within the fiscal year. Their healthcare platform also increased 3% to $1.7 billion. Currently, the client is also experiencing strong initial results for the first part of the 2023 financial year. With a current 38% increase in their AUM, their continued success is being defined by organic growth across its real estate platform.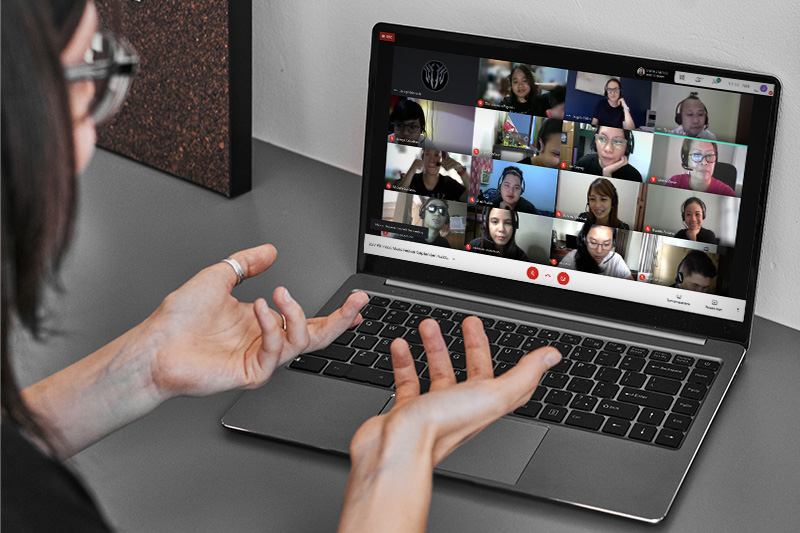 Diversify continues to play a role in their client's ongoing growth. With a 94% satisfaction rate, the relationship between the client and their offshore team continues to strengthen. Through care and engagement, the client was able to develop their team to take on further roles than initially conceived. At the same time, their offshore team gave positive feedback when discussing their level of engagement and working environment satisfaction. According to the aforementioned engagement survey, more than 98% of the team believe in their client's decisions and are treated fairly.
Closing Thoughts
Offshoring with Diversify allowed the client to access different resources and high level talent. They can perform a number of finance and leasing administration roles, as well as a number of niche roles. With proper employment and working conditions provided to their offshore team, the client's acquisition of new assets into their portfolio can be founded on ethical grounds.
Overall, the addressing of modern slavery risks brought further success to both Diversify and its client. For their part, the client remains committed in establishing a sustainable, responsible supply chain focused on mitigating these risks. Through partnerships with service providers like Diversify, they are able to better create business roadmaps that adhere to the best practices of the supply chain. In the case of Diversify, its role and reputation as one of the top offshore service providers in the Philippines remains intact.