2021 started to be an interesting year for digital marketing strategies. Last year, many companies may have put it behind them at the height of global pandemic. With more major pressing issues at hand, it was valid to feel it should not be focused on at the moment. However, with shifting norms on the horizon, digital marketing strategies should once again be considered a priority.
Digital marketing already had a global impact before 2020's pandemic started. Leveraging its reach to a global audience was always at its core. Good digital marketing is about keeping up with the latest trends and adapting to the changes. With changing trends upended this past year, companies had to rethink their digital marketing strategies. This 2021, the need for proper digital marketing will also require adapting strategies from lessons learned last year.
Redefining Digital Marketing for 2021
Digital marketing efforts in 2021 should adapt to the current global situation. Many companies are continuously seeking ways to address customer needs. Let's look at email marketing for example. Email marketing was a cost-effective strategy in reaching and building an audience. Even before the global pandemic, the use of email campaigns was often a go-to approach for companies in maintaining customer relationships. Last year, we saw several companies continue this approach, often including assurances they are here to assist as best they can.Some also used email campaigns not to put their business first, instead asking their customers how they were doing during the pandemic. Businesses also left communication lines open for people to get in touch with them for any queries. These are small but effective additions that can go a long way. These are small but effective additions that can go a long way.
Online Remains Key
 Traditional marketing approaches in 2020 were greatly affected by the sudden shift to digital marketing last year. With more consumers opting to stay in their homes, they were less exposed to traditional marketing means. Less people were outside or on the road, limiting their exposure to billboards and roadside ads for instance. On the flip side, this meant more people were spending their time online to stay abreast with current events. When you compound mobile browsing into the mix, search traffic since the pandemic started greatly increased. SEO and PPC advertising also can continue to thrive as they are a means of increasing online traffic. This acceleration of digital adoption is already proving to be effective. In countries like Australia, digital adoption in 2020 meant more resilient businesses and better productivity.
Companies ramping up their online presence for consumers is a key part of digital marketing. In the past year, it became an essential part of staying afloat during uncertain times. We are reminded just how powerful social media's influence and reach is, especially when it means interacting with businesses. On top of that, businesses also showed how they managed through the pandemic and made sure that they are ready to assist their existing clients. . Companies now show what guidelines they have in place for employees returning to their spaces, emphasizing social distancing and safety.
Approaching The New Normal
Let's take a moment to discuss how much 2020's pandemic affected certain industries. Most people will cite the travel industry as one major example. Whether locally or internationally, traveling was severely restricted due to closed borders and cancelled travel plans. Even today, as the industry looks to rebuild, there is still uncertainty when traveling can return to what it used to be. Despite this, some key players in the industry did not halt their presence online. To keep customers engaged, travel companies- whether airlines or airports – continued to build brand awareness. Through social media, they've kept themselves busy with photo sharing contests, customer surveys and frequent updates on availability. As some restrictions begin to ease in 2021, many in the industry are making strides in promoting limited travel options.
Another example is the Events Industry. Several live events were set back due to safety concerns and restrictions for crowds and gatherings. Major sporting organizations like the NBA halted their season due to growing pandemic concerns. The league lost revenue from no audience attendance and arena workers were also not able to make a living. Perhaps the biggest instance of this was the cancellation of the 2020 Olympics in Tokyo. Although some sports now allow for limited attendance, other live events such as concerts and conventions remain in the virtual space.  
Lessons Learned from 2020
Everything we've discussed until now comes off the heels of what happened in 2020. Since then, digital marketers learned several things they can leverage in 2021. Perhaps the most key is online engagement. While things like webinars mimicked this, they also showed the need for consistent interaction. Outside a professional setting, people are hosting parties, get togethers and gatherings online with ease.  At Diversify, our traditional monthly huddles became virtual events that mimicked our in-person get-togethers. Through careful planning and execution, virtual huddles became a monthly event that Diversify's staff consistently looks forward to. Jake Milenstein, CMO at CI Security, summed it up best by saying "The interactivity that's been promised for decades is now a necessity for 2021." 
The Hopeful View Ahead
Digital marketing in today's global pandemic is very different and requires more unique approaches. We're seeing how different businesses responded to the current situation and how they've been able to adapt as best they can. Some harder hit industries still kept their audience engaged regardless of the impact.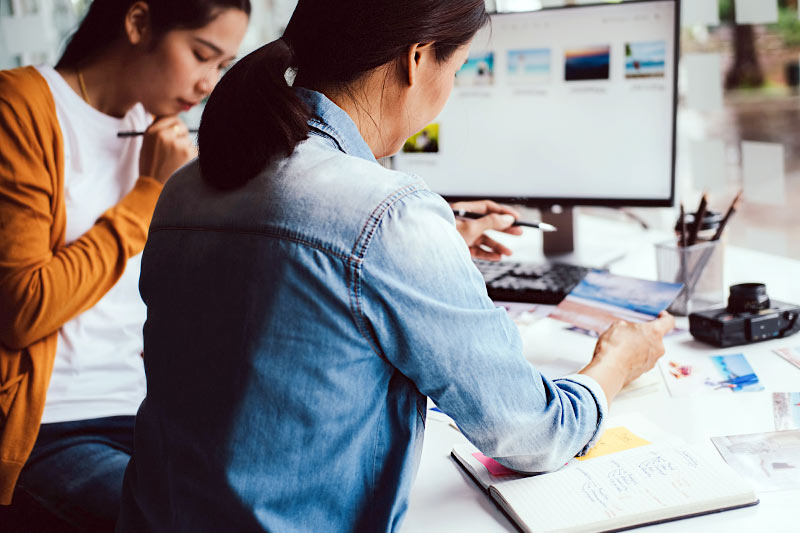 Right now, it is unclear how long this "new normal" is going to last. The global pandemic both shifted and altered what consumers needed to prioritize. With more people relying on online resources, many businesses models also began to adapt to people's changing needs.
As discussed earlier, digital marketing is certainly not a new concept. However, in order to navigate through these uncertain times, it is something that businesses should embrace more. With changes to many business models, marketing strategies should adapt as well. We may be in the midst of a global pandemic, but that also does not mean you have to stop reaching out to consumers.